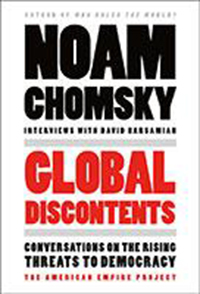 Book launch with David Barsamian
Panel: David Barsamian, Lindsay Brown, Annie Ross, Dionne Bunsha
Moderator: Samir Gandesha
Saturday, February 24, 2 pm – 4 pm
Harbor Centre Rm 7000
515 W Hastings Street, Vancouver
Global Discontents is a compelling new set of interviews with Noam Chomsky, who identifies the "dry kindling" of discontent around the world that could soon catch fire. In wide-ranging interviews with David Barsamian, his longtime interlocutor, Noam Chomsky asks us to consider "the world we are leaving to our grandchildren": one imperiled by the escalation of climate change and the growing threat of nuclear war. If the current system is incapable of dealing with these crises, he argues, it's up to us to radically change it. These ten interviews examine the latest developments around the globe: the devastation of Syria, the reach of state surveillance, growing anger over economic inequality, the place of religion in American political culture, and the bitterly contested 2016 U.S. presidential election. In accompanying personal reflections, Chomsky describes his own intellectual journey and the development of his uncompromising stance as America's premier dissident intellectual.David Barsamian: One of America's most tireless and wide-ranging investigative journalists, David Barsamian has altered the independent media landscape, both with his weekly radio show Alternative Radio—now in its 32th year—and his books with Noam Chomsky, Eqbal Ahmad, Howard Zinn, Tariq Ali, Richard Wolff, Arundhati Roy and Edward Said. His new book with Noam Chomsky is Global Discontents: Conversations on the Rising Threats to Democracy. He lectures on world affairs, imperialism, capitalism, propaganda, the media, the economic crisis and global rebellions.
David Barsamian is the winner of the Media Education Award, the ACLU's Upton Sinclair Award for independent journalism, and the Cultural Freedom Fellowship from the Lannan Foundation. The Institute for Alternative Journalism named him one of its Top Ten Media Heroes. He is the recipient of the Lifetime Achievement Award from the Rocky Mountain Peace and Justice Center. In 2017 the South Asian Network for Secularism and Democracy presented him with their Lifetime Achievement Award. He has collaborated with the world-renowned Kronos Quartet in events in New York, London, Vienna, Boulder and elsewhere.
Barsamian was deported from India due to his work on Kashmir and other revolts. He is still barred from traveling to "the world's largest democracy."
Lindsay Brown is a Vancouver writer, designer and activist. Her book, Habitat 76, an illustrated history of Vancouver's 1976 UN Habitat Conference on Human Settlements was published in 2017.
Dionne Bunsha is an award-winning author and journalist. She is the author of the acclaimed non-fiction book, Scarred: Experiments with Violence in Gujarat (Penguin India, 2006) about the aftermath of the communal violence in Gujarat. As a Senior Assistant Editor for Frontline magazine (www.frontline.in) in Mumbai, India, she travelled extensively to report on human rights, social justice and environmental issues.  Dionne writes for The Guardian, The Hindu newspaper, the New Internationalist, Guernica, Toronto Star and The Tyee. Dionne was a Knight International Journalism Fellow at Stanford University in 2008-09. Currently, Dionne coordinates a project mapping indigenous knowledge for Lower Fraser First Nations and teaches communications at Kwantlen Polytechnic University.
Samir Gandesha is an Associate Professor in the Department of Humanities and Director of the Institute for the Humanities at Simon Fraser University. His recent books include  Reification and Spectacle: On the Timeliness of Western Marxism and Aesthetic Marx.
Annie Ross is an Indigenous (Maya) teacher and artist working along and with community in Canada. She teaches Environmental Ethics in First Nations Studies at Simon Fraser University.
Organized by South Asian Network for Secularism (SANSAD) and co-sponsored by the Institute for the Humanities, Simon Fraser University