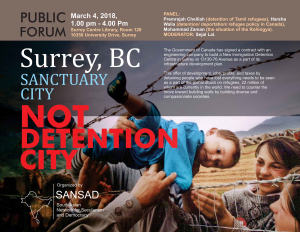 Surrey: Sanctuary City, not Detention City
Public Forum
March 4, 2018, 1.00 pm -4.00 Pm
Surrey Centre Library, Room 120
10350 University Drive, Surrey
Panel:
Chelliah Premrajah, Harsha Walia, Mohammad Zaman
Moderator: Sejal Lal
Overture: hospitality in Vancouver: Patricia Gruben with Martin Gotfrit on mandolin
The Government of Canada has signed a contract with an engineering company to build a New Immigration Detention Centre in Surrey at 13130-76 Avenue as a part of its infrastructure development plan. It is expected to be completed by November 2018 to replace the current holding center at the Vancouver airport and minimize the practice of placing immigrants/refugees in prisons. The detention of refugees with common criminals, for which Canada is conspicuous in the world, has been condemned by the UNHRC.
While the government promises profits to businesses, jobs to workers and taxes to the city, we need to understand the significance of detaining "immigrants, "the word used to cover refugees, who generate public sympathy, in the context of the larger world. The issue of the treatment of refugees by national governments has become extremely urgent in a world that currently has 22 million refugees according to the UN. This number can only grow as wars and climate change—and climate change induced wars—drive more and more people desperately to seek safety and livelihood far from their burnt, bombed, and abandoned homes. We are all aware of the droughts, wars and genocides that have driven millions to flee from Africa, Syria, Myanmar, and Afghanistan
Governments across the world have responded to this by creating barriers and adopting coercive measures, often in response to anti-immigrant popular movements, as we see in the US, Europe, particularly Central and Eastern Europe, and India. However, against this right-wing populism there has been the resistance of people with generous hearts who have opened their homes and purses for the succor of fellow human beings and established cities of sanctuary. We have seen this Canada in response to the refugees from Syria.
We need to be a part of this ethical politics of hospitality and welcome rather than incarcerate refugees. We must resist the labelling of refugees as "immigrant" or "illegal immigrant" to rationalize repression and block the gates of compassion. Particularly in the city of Surrey which is proud of its diversity we should build a sanctuary city and not allow the construction of detention centers.
Presenters:
Premrajah Chelliah is a member of SANSAD and Amnesty International. He is a retired healthcare worker, a life-long activist in the labor movement and life-member and past president of Tamil Cultural Association of BC. He is Secretary of BC Seniors Shanti Nilayam and a member of the Outreach and Social Justice Committee of Gilmore Park United Church, which co-sponsored Guatemalan, Afghan, and Syrian refugees.
Martin Gotfrit is emeritus professor of music and former Dean of the School for Contemporary Arts at Simon Fraser University. He is activist in hospitality for refugees through Or Shalom Synagogue.
Patricia Gruben is professor in film studies at Simon Fraser University. She is a leader in hospitality for refugees in Vancouver.
Sejal Lal is a musician and activist in human rights, South Asian youth issues, and indigenous support. She is a member of SANSAD.
Harsha Walia is cofounder of migrant justice group, No One is Illegal. She is the author of award-winning book, Undoing Border imperialism and Project Coordinator at Downtown Eastside Women's Center. For the pat two decades she has been involved in immigrant and refugee rights, including supporting migrant detainees and campaigning against immigrant detention, deaths in detention, children in detention, and arbitrary detention. She has co-authored numerous reports on migrant and refugee issues in Canada and presented at the United Nations on immigration detention in Canada.
Mohammad Zaman is an international development/resettlement specialist. He recently has written a number of articles on Rohingya refugees in papers in Bangladesh and Canada.
Organized by South Asian Network for Secularism and Democracy (SANSAD), www.sansad.org; https://www.facebook.com/events/2096748527239170/